FREE DOWNLOAD GAY VIDEO "LOUD AND NASTY" (TitanMen)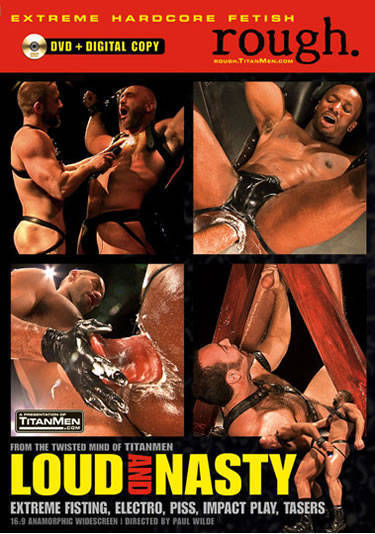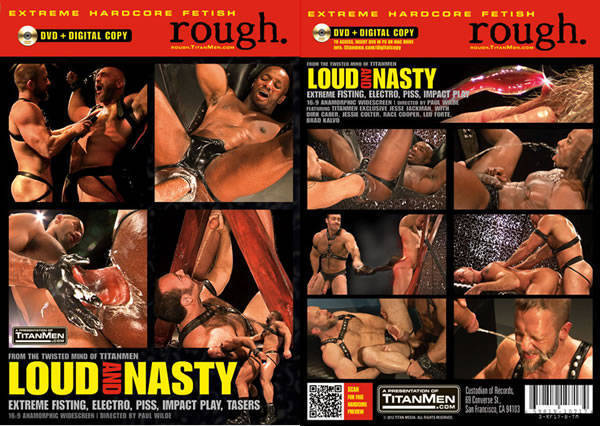 Released:
2012
Country:
US
Studio:
TitanMen Rough, TitanMen
Cast:
Brad Kalvo, Dirk Caber, Jesse Jackman, Jessie Colter, Leo Forte, Race Cooper
Director:
Paul Wilde
Keywords:
Abuse/Humiliation, Age: College Freshmen to Late 20s, Age: Daddies/Men, Body Types: Beefy/Bodybuilders/Muscle Men, Body Types: Gymnasts/Ripped/Swimmers, Body/Chest Hair: Hairy and Smooth Guys Together, Butt Play: Dildos/Plugs/Toys, Butt Play: Finger Fucking/Probing, Butt Play: Fisting/Extreme Assplay, Cast's Looks: Butch/Rugged/Tough, Cast's Looks: Chiseled Face/Handsome, Cock Sizes: Big and Thick, Dirty Talk/Verbal Abuse, Discipline/Punishment, Facial Hair: Beards, Facial Hair: Five-O-Clock Shadow/Scruff, Fetish: Bondage/Restrained/Tied-Up, Fetish: Electric Shock Applications/Devices, Fetish: Flogging/Whipping, Fetish: Leather (Light), Fetish: SM/BD, Fetish: Spitting, Fetish: Watersports, Foreskin Play/Uncut Cocks, Interracial, Kinky/Nasty Pig/Raunchy, Rimming (Ass Eating), Rough Sex, Tattoos: Extreme/Full Sleeve/Heavily Inked
Genres:
Extreme Sex, Fetish/Kink
Synopsis
"A warning from the producers: This film portrays realistic and authentic BDSM and fetish sex. These are not actors, but experienced BDSM players doing what they love to do. This is hardcore extreme sex at its most raw and most realistic, and should be viewed only by those that can handle it."
"If vocal studs grunting, groaning, and screaming in steamy scenes of power play make your pulse pound, you wont keep quiet during Loud and Nasty, the filthy kink title in TitanMens jaw-dropping Rough series. Three pairs of TitanMens highest-caliber studs subject each other to sweat-dripping, lung-piercing, ass-stretching edge play.
Hard-muscled, shaved head studs Leo Forte and Race Cooper swap spit before Leo bends Race over a sling. Races latex jock frames his muscular ebony cheeks, which Leo pries apart to rub his buzzed scalp against his hole. Sexy, smirking Leo, in his rubber jock and red hankie, takes his time tonguing Races tight hole, barely started on the full-out ass assault he has planned. He throws Race into the sling and fastens Races booted feet up against the chains as Race hungrily fingers his own wet hole. Leo crouches down and greases up Races hole before working first one, then two, three, and four fingers inside Race, stretching him into a state of agonized bliss.
Leo relishes Races tight and willing grip on his slick fist as Race closes his eyes, lost on a mind trip, grunting and screaming as Leo shoves in deeper, Leo strokes his thick, uncut meat as he slowly works his fist up to the wrist, totally owning Races ass. Race makes noises like a rutting animal as Leo slides a series of enormous veined dildos up his ass, inching them in by slow degrees, knocking his fist against their bases, roughly jolting the deepest parts of Race. Then Leo finally slides his aching, uncut slab of meat into Races eager manhole. Leo grabs hold of the sling chains and jackhammers away until he pulls out and sprays white cum all over Races black six-pack. Race screams as Leos epic ass his load spurts all over his chest. Leo wets him down with a stream of piss before learning in and swapping spit with his satisfied bottom.
Massive muscle man Brad Kalvo ties up inked sex pig Jessie Colter to a St. Andrews cross before breaking out a flog that he throws against Jessies back. Jessie closes his eyes and - initially - quietly endures the first few strokes of Brads beating, his back slowly reddening under the blows. Brad pulls off Jessies neoprene shorts to reveal Jessies rock hard tool, rubbing up against the wooden cross. Brad, his own proud cock standing at attention, slowly works Jessie with the flog, pounding him with heavier strokes that bring out the grunts in Jessie. Brad, in a leather harness and jock, uses his powerful shoulders and arms to beat Jessies back and now ass until his skin is red-hot. Brad lays down on his back beneath Jessie, points Jessies still-hard cock down, and lets himself get sprayed in Jessies piss. He swallows and spits out the river of piss, then returns to beating Jessies butt. Brad works up a sweat, changing up his strokes and punishing Jessies perfect fuzzy ass, getting the captive, horned-up bottom to grunt and cry out.
Brad finally unties Jessie, bends him over a padded bench, then kneels down and tongues Jessies red, abused ass and hole. Brad strokes his hungry tool as he pushes his tongue inside Jessies hairy hole till both studs are dripping for more. Brad stands and works his hard meat into Jessies eager upturned ass, pushing down on the sexy bottoms back to penetrate deeper and feel every tight inch clamped down on his cock. He flips Jessie on his back and plunges back into his steamy hole, working him with slow, deep strokes and jacking Jessies achingly hard cock. Jessie sprays his load over his own chest before Brad marks Jessies chest with his own thick load.
Testosterone-fueled Dirk Caber ties big stud Jesse Jackman to a St. Andrews Cross, then breaks out a violet wand. He runs it along the tender skin of Jesses hard, hairy chest, inching its charged tip over his armpit and his nips as Jesses eyes roll back in his head and he noisily growls. The two men swap spit, laughing in the moments between each shock. Dirk frees their rock-hard tools from their leather jocks, touching the heads together and pulling back, a string of precum connecting them. With other tools that turn him into a human conductor, Dirk strokes his bare hand against the massive slabs of Jesses chest, his fingertips shooting jolts over Jesses skin. Dirk unties Jesse from the cross, throws him back on a bench, lifts Jesses muscular legs, then proceeds to feast on his hairy hole, getting it wet and ready for his thick meat, which he slides into Jesses hungry hole.
Dirk flips him on his belly and pounds him mercilessly from behind, holding tight to Jesses harness and laughing at the noises Jesse makes as Dirk plunges balls-deep into the muscle butt. But now Jesse revolts, aiming a stun gun at Dirks leg and growling as Dirk falls to the floor. Jesse pisses all over Dirks chest, cock, and balls, soaking him before pointing the stun gun at Dirks wet flesh and shocking him in sweet revenge. Jesse throws Dirk on the bench and shoves his own thick meat into his former tormenters twitching hole. Dirk gives into the pleasure of the big mans butt plowing, stroking his throbbing cock until his cum rains down on his black jock. This pushes Jesse over the edge, and he screams as he unloads all over Dirks wet, still-hard cock."
Product Format Information
Format : AVI
File size : 1.51 GB
Duration : 2h 6mn
Overall bit rate : 1 711 Kbps
Width : 1 280 pixels
Height : 720 pixels
Display aspect ratio : 16:9
Audio MPEG Audio
Free download DVDrip "Loud and Nasty" - TitanMen
Loud and Nasty.avi
File size:
1.51 GB
DOWNLOAD:


http://fb.goo1.pl/download/32d487679c/4f3e195c6bf1fd4af454/dc38f2ac0181d8b79188/Uploaded_for_strefa-x_full_2013.rar


or
 
http://is.gd/1XbQs1
DOWNLOAD (mirror):


http://fb.goo1.pl/download/32d487679c/4f3e195c6bf1fd4af454/dc38f2ac0181d8b79188/Uploaded_for_strefa-x_full_2013.rar


or
 
http://tinyurl.com/qh25kpy
DOWNLOAD (mirror):


http://fb.goo1.pl/download/32d487679c/4f3e195c6bf1fd4af454/dc38f2ac0181d8b79188/Uploaded_for_strefa-x_full_2013.rar


or
 
http://tinyurl.com/q4vh34b


http://fb.goo1.pl/download/32d487679c/4f3e195c6bf1fd4af454/dc38f2ac0181d8b79188/Gay - Loud and Nasty.rar